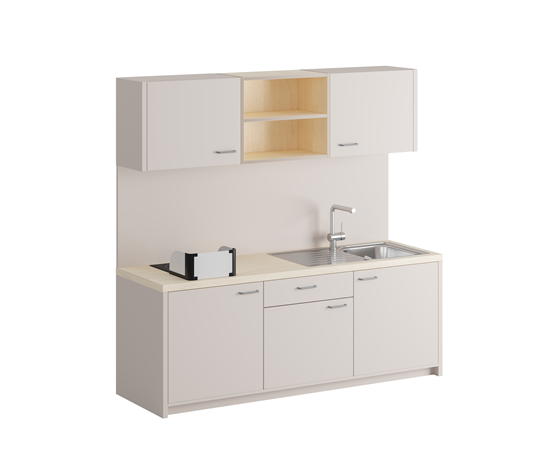 Cooking with children has now become an integral part of the pedagogical program in many daycare centers.
This works best in specially attached and fully functional children kitchen. They resemble a normal built-in kitchen in terms of equipment, but are smaller and have higher level of security.
Our high-quality kitchen with a modern look and branded appliances will delight all master chefs, big and small! They are fully equipped with a ceramic hob with two zones, including a pan safety device, sink, drawer and, on request, an oven and refrigerator.
There is sufficient space for cooking hardware and dishes in the upper and lower cabinets.

Birch / satin

Beech / satin
– Body and fronts made of 19 mm three-layer high-qualitychipboard, manufactured in accordance with DIN EN14322 | 2017-07, classification E1 (low-emission), safein contact with food
– Splash guard (full surface)
– Child-friendly handles
– Including coil (fittings and installation connections are not
– Included in the scope of delivery)
– Including ceramic hob with child safety device
(HxWxD): 181 x 293 x 60 cm
(Working height: 72 cm)
– same equipment as in regular kitchen
– beautiful design, high quality equipment
– robust, easy-care surfaces